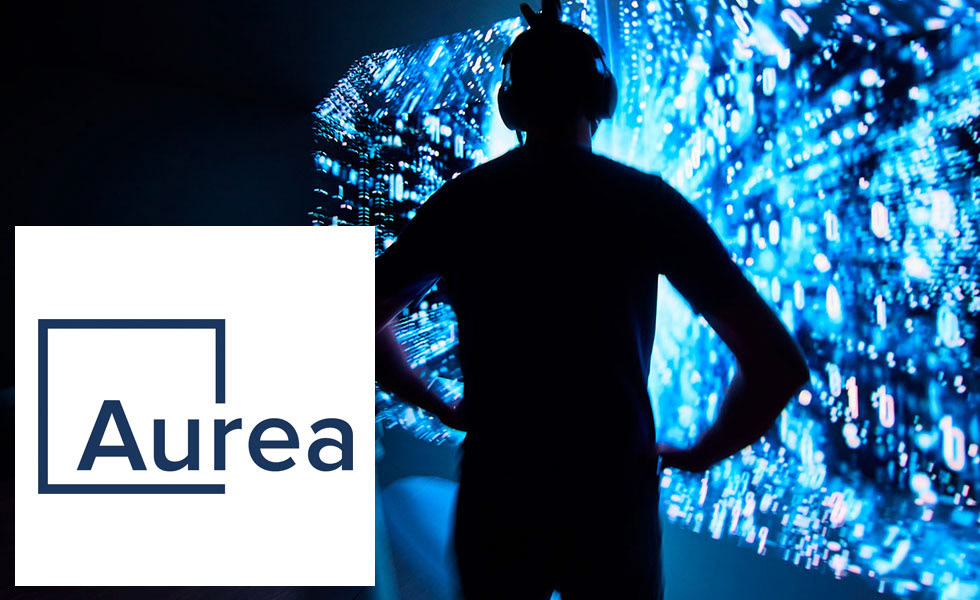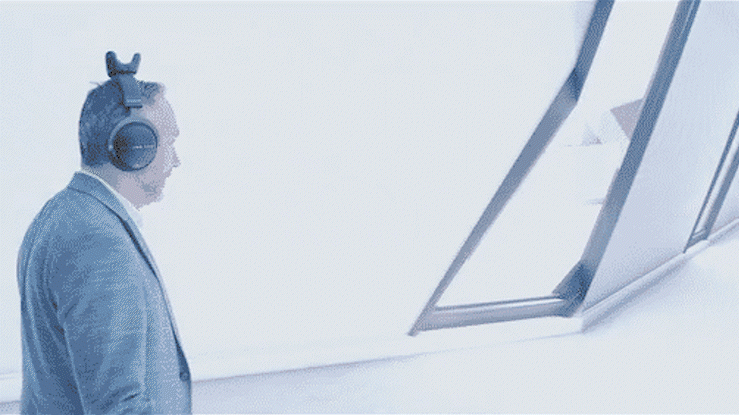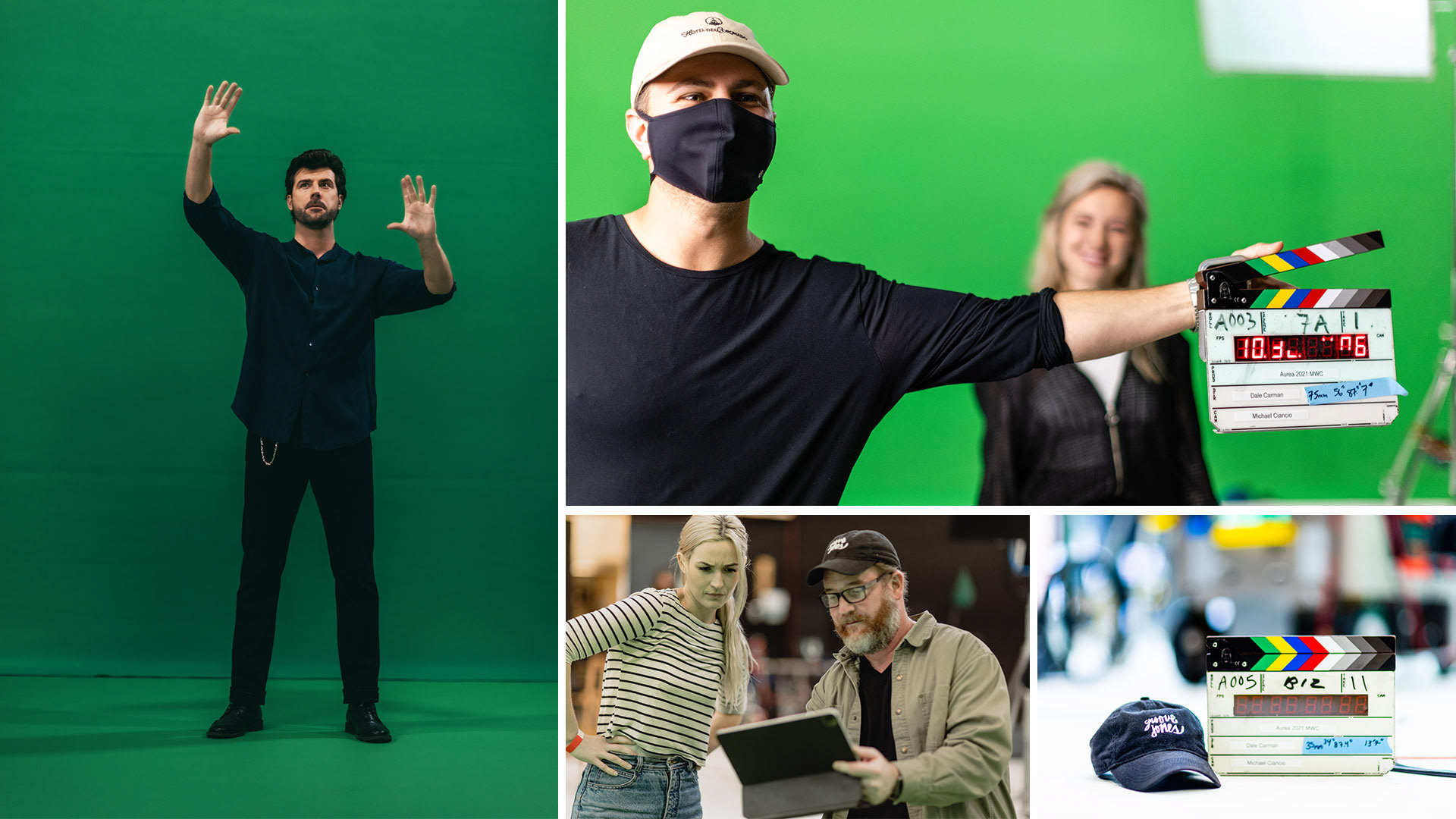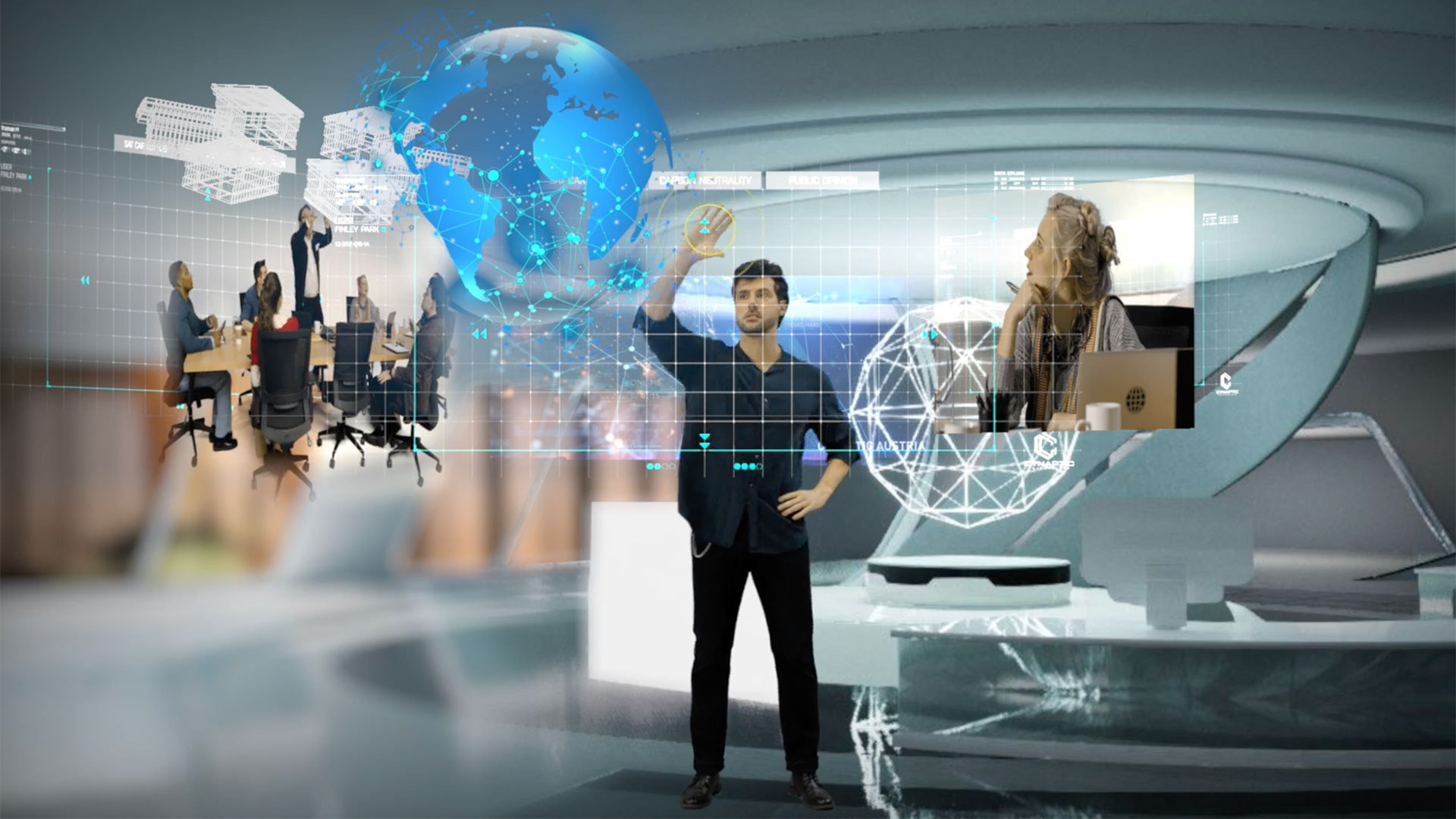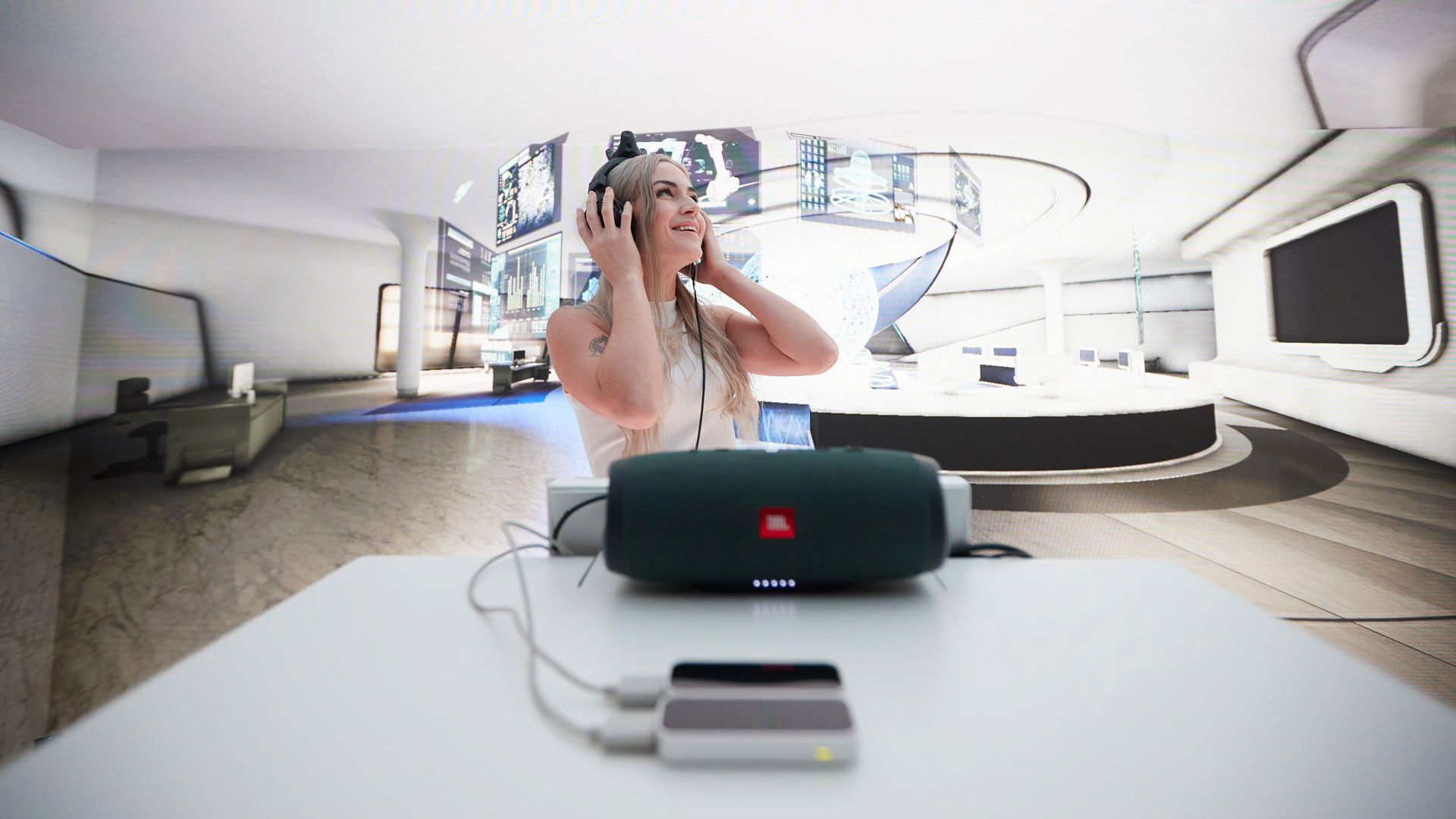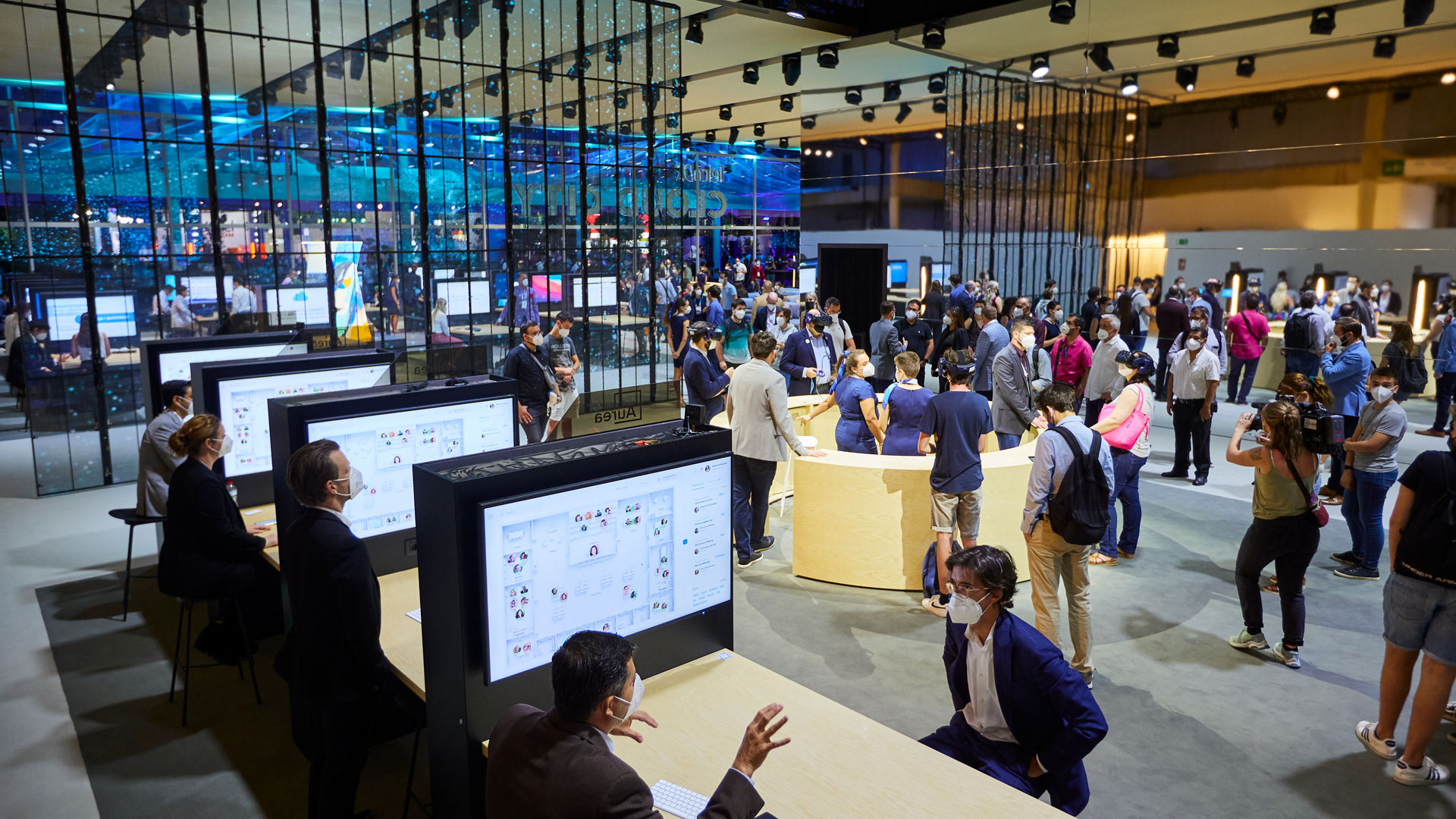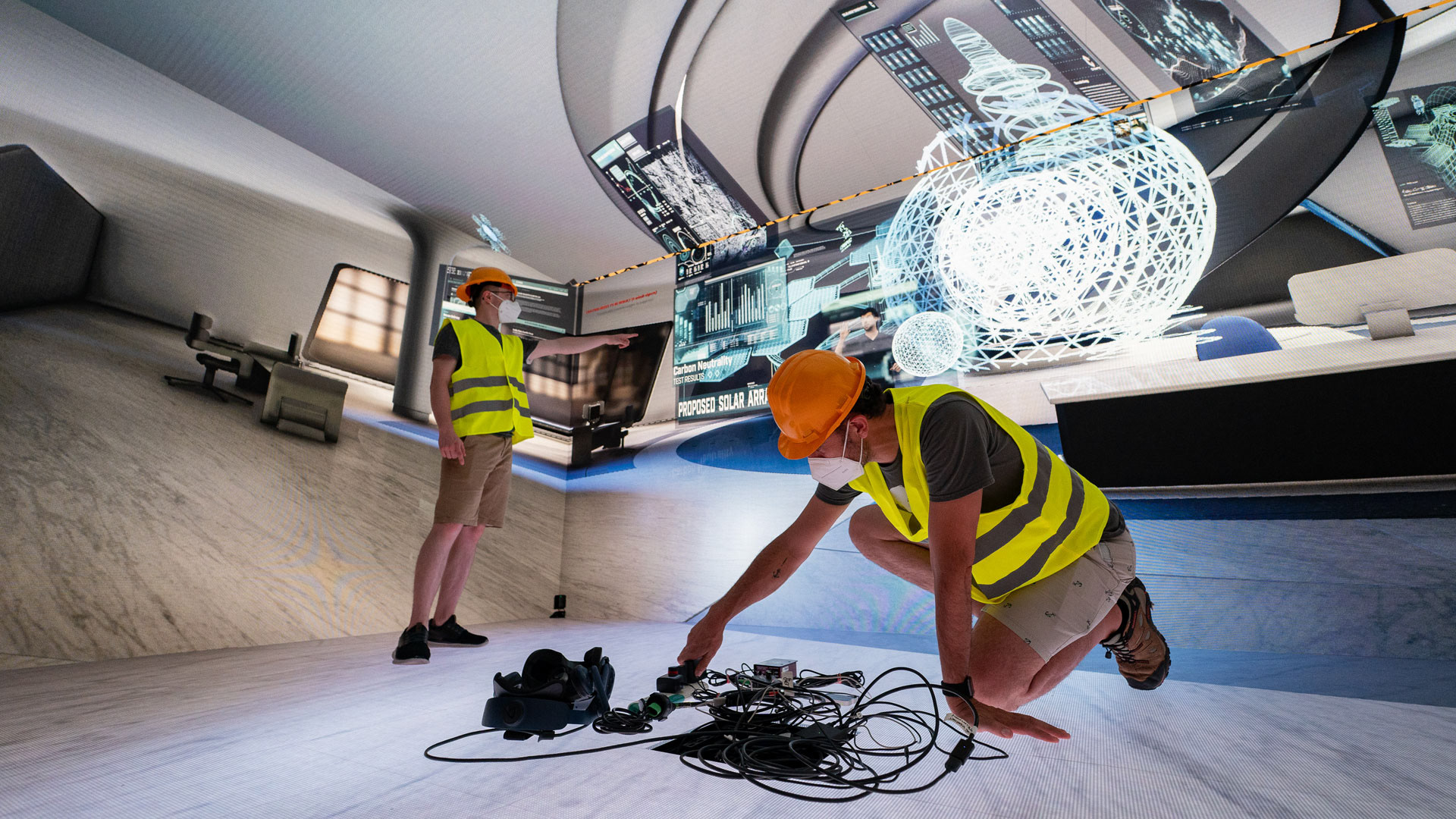 LED Volumetric Holodeck and VR Experience for Aurea Software at Mobile World Congress
Aurea
 is an enterprise software company reimagining how companies can streamline communication and collaboration across dozens of subsidiaries and global locations. They wanted to make a big splash at this year's Mobile World Congress in Barcelona by using the latest and greatest technology to demonstrate their vision of the future of enterprise business.
The team proposed creating a large-scale holodeck experience leveraging an interactive game engine and an LED volumetric stage, that would allow participants to step into a fully immersive space to see and interact with the future.
This would be an exclusive VIP experience and would serve as the must-see experience at MWC2021.
The holodeck experience is the first LED volumetric stage to use head tracking to give the user a real-time, perspectively-correct view of their space to enable a more immersive and compelling experience.
Overview Video of the Production
To increase the number of people who could experience the Future of Enterprise business, we created a companion VR experience using the newest HTC Vive Pro 2 HMDs.

Many of the attendees of MWC2021 were remote and were able to experience the Holodeck through their robot systems.
The Experience
The Story
We take you on a journey where you are a part of an interactive story about CEO Sophia Deleon and her company Cynaptic Enterprises. Participants play the role of Finley Park, Vice President of Analytics for Cynaptic Enterprises.

In the experience you take part in the story, seeing Sophia communicating her company's goal of being the first global company to achieve zero net greenhouse gasses by 2028. Through state-of-the-art technology, you can interact with team members as they implement changes that will help you and Sophia accomplish this goal.
Creating A Virtual Holodeck Experience
After discussing the initial concept with Aurea's leadership team, we began working on a narrative and scripting and then storyboarding the critical story beats.
Elements of the experience included a live-action production produced and shot in Dallas, TX and directed by Dale Carman.
As part of the team worked on the live-action elements, our development team built the 3D CGI environments and the application. We used 
Epic Game's Unreal Engine
, the world's most open and advanced real-time 3D creation platform for photoreal visuals and immersive experiences.
The production combined high-end 3D CGI graphics and a spatially-aware head tracking system to update the world in real-time as if you were looking through a window or into a hologram.


Groove Jones brought on ETS, who had recently completed construction of their own LED volumetric stage here in Dallas, TX.  This collaboration helped expedite the development enabling us to work and test locally.  The stage we built has five (5) LED screen walls (including ceiling and floors), using 266 tiles with 10,775,808 total pixels.


The floor was a specialty screen that could hold over 40,000 lbs alone. The stage used a custom truss exoskeleton, so it was perfect for supporting the LEG walls wherever we needed them to go.


The LED stage was built to the exact design specifications that we needed for MWC2021 in Barcelona. So what we were making in Dallas would be the same setup we would be constructing on-site. The experience was powered by two custom Threadripper Pro 32 Core PCs with Dual NVidia RTX A6600 Quadro GFX Cars and two Disguise VX2 Media Servers.


Upon arriving in Barcelona, the team recreated the stage as we initially set up back in Dallas. Once completed, the illusion of being inside the story was truly remarkable.The client's overall booth space allowed us to house the holodeck experience, a VR lounge, and four sales pods for presentations. Groove Jones worked with Bristol Management, who consulted with the fabricators and us to ensure all of the technologies worked as planned. 
The team was coding and cutting wood on-site in preparation for the big event.The companion VR experience was a modified version of the holodeck experience running five (5) VR stations that were supported by Groove Jones and managed locally by brand ambassadors. Each headset was cleaned between use.
Groove Jones worked with Meritage Events, who handled logistics and event planning on the conference floor and after-hour events.The evenings featured music by Rosario Flores, a two-time Latin Grammy Award-winning Spanish singer, and an acoustic set by Grammy Award winner Jon Bon Jovi. Yes, that Jon Bon Jovi. Groove Jones had nothing to do with the entertainment, but it was exciting to be on site for the shows.
Client Feedback
"Don't let anyone tell you that you cannot build a working Holodeck in 90 days," says Alan Fletcher, Chief Product Officer at Aurea Software.
"Our goal was to build a completely immersive experience for Mobile World Congress in Barcelona. For a number of reasons, we were very last minute and didn't really have a solid plan. We took a leap of faith on GJ following a great initial call, and they took a leap of faith on us."
"The result was incredible – a 20x16x10′ fully enclosed experience – our Holodeck! – all driven by Unreal Engine. All designed, scripted, engineered, filmed, and built (in Spain working thru a ton of complexity with conference vendors and European rules….) in only 3 months. And just for fun they also did a companion headset-based version for the people we couldn't fit into the Holodeck."